Faturananda Compilation
The name Faturananda (Ramachandra Mishra, 1915-1995) is synonymous with satire in Odia literature. His real name is Ramachandra Misra. Born on 1st June, 1915 at Jhanjiri Mangala in Cuttack town, he went on to study medicine after his early schooling. But he was barred from practicing as be contracted Hanson's disease (leprosy). Although he got back his right to practice after a long legal battle, having been cured of the disease, he opted not to do so.

He took up writing instead and started a new era in Odia literature by introducing humor and satire in his writings which covered different forms like novel, poetry, drama and story. But he is best remembered for his numerous stories with most amusing plots and characters. He was deeply influenced by a senior writer and humourist of the time Kantakabi Laxmikanta Mahapatra and found Kantakabi's magazine Dagaro as a vehicle for his writings. He also became involved in running and editing the magazine at a later time.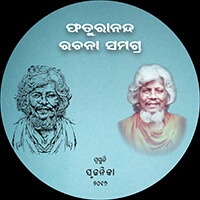 Towards the end of his life, he was not keeping good health and lost his eyesight. Hence he had to depend on others to write down his dictations, but managed to remain active in his literary work.
Having carved out a permanent place for himself in the field of Odia literature, particularly satire and humor literature, he influenced a new generation of younger writers to continue such writings.

Digital versions of Faturananda's writings can be accessed via the table below which provides links for opening/previewing/downloading these.
Faturananda Writing
ଗଳ୍ପ – Stories
ହେରେସା (୧୯୫୯)
Heresa (1959)
Preview Download
ସାହିତ୍ୟ ଚାଷ (୧୯୫୯)
Sahitya Chasa (1959)
Preview Download
ବିଦୂଷକ (୧୯୬୩)
Bidusaka (1963)
Preview Download
ମଙ୍ଗଳବାରିଆ ସାହିତ୍ୟ ସଂସଦ (୧୯୬୩)
Mangalabaria Sahitya Sansada (1963)
Preview Download
ହସକୁରା (୧୯୭୨)
Hasakura (1972)
Preview Download
ବୃହତ ଭାଣ୍ଡ (୧୯୭୭)
Bruhata Bhanda (1977)
Preview Download
ଅମୃତ ବେହିଆ (୧୯୭୭)
Amruta Behia (1977)
Preview Download
ଭୋଟ (୧୯୮୦)
Bhot (1984)
Preview Download
ଗମାତ (୧୯୮୨)
Gamata (1982)
Preview Download
ନିଦା ବେହେଲ (୧୯୮୨)
Nida Behela (1982)
Preview Download
ସାହିତ୍ୟ ବେଉଷଣ (୧୯୮୩)
Sahitya Beusana (1983)
Preview Download
ନବଜିଆ (୧୯୮୩)
Nabajia (1983)
Preview Download
ଥଟଲିବାଜ (୧୯୮୩)
Thatalibaja (1983)
Preview Download

ସାହିତ୍ୟ ବଛାବଛି (୧୯୮୪)
Sahitya Bachhabachhi (1984)
Preview Download
ମସ୍କରା (୧୯୮୫)
Maskara (1985)
Preview Download
ଟାହୁଲିଆ (୧୯୮୬)
Tahulia (1986)
Preview Download
ଟାପୁରିଆ (୧୯୮୮)
Tapuria (1988)
Preview Download
ମୁଚୁକୁନ୍ଦିଆ (୧୯୯୦)
Muchukundia (1990)
Preview Download
ଖିଲିଖିଲିଆ (୧୯୯୩)
Khilikhilia (1993)
Preview Download
ଓଡ଼ିଶାର ସ୍ପିନ୍ ବୋଲର୍ (୧୯୯୪)
Odishara Spin Bowler (1994)
Preview Download
କବିତା, ନାଟକ, ଆତ୍ମ ଜୀବନୀ, ଅନୁବାଦ – Poetry, Drama, Autobiography, Translation
ସାହି ମହାଭାରତ (୧୯୮୭)
Sahi Mahabharata (1987)
Preview Download
ମୋ ଫୁଟା ଡଙ୍ଗାର କାହାଣୀ (୧୯୮୯)
Mo Futa Dangara Kahani (1989)
Preview Download
କଲିକତି ଚେଙ୍କ (୧୯୯୮, ୪ର୍ଥ)
Kalikati Chenka (4e. 1998)
Preview Download
ଆଦର୍ଶ ହିନ୍ଦୁ ହୋଟେଲ (୧୯୭୭)
Adarsa Hindu Hotel (1977)
Preview Download
ଭାରତର ଶ୍ରେଷ୍ଠ ହାସ୍ୟଗଳ୍ପ (୧୯୯୬)
Bharatara Srestha Hasya Galpa (1996)
Preview Download
ଶିଶୁସାହିତ୍ୟ, ଉପନ୍ୟାସ, ଅନ୍ୟାନ୍ୟ – Children's Books, Novel, Others
ଅଜଗବି ଶିକାର (୨୦୦୯, ୨ୟ)
Ajagabi Sikara (2e. 2009)
Preview Download
ନାଲୁର ଚନ୍ଦ୍ର ଯାତ୍ରା (୧୯୯୧)
Nalura Chandra Jatra (1991)
Preview Download
ନାକଟା ଚିତ୍ରକର (୧୯୫୩)
Nakata Chitrakara (1953)
Preview Download
ଫମାଲୋଚନା (୧୯୮୭)
Phamalochana (1987)
Preview Download
ଫତୁରାନନ୍ଦଙ୍କ ଦୁଷ୍ପ୍ରାପ୍ୟ ରଚନା (୨୦୦୦)
Faturanandanka Dusprapya Rachana (2000)
Preview Download
ଫତୁରାନନ୍ଦ ସମ୍ପର୍କିତ – Related Writings
ନାକଟା ଚିତ୍ରକର (ନାଟକ)(୧୯୮୯)
Nakata Chitrakara (Drama) (1989)
Preview
Download
ଫତୁରାନନ୍ଦ ପରିକ୍ରମା (୨୦୧୫)
Faturananda Parikrama (2015)
Preview Download
ଫୁଟା ଡଙ୍ଗାର ନାଉରୀ (୨୦୦୦)
Phuta Dangara Nauri (2000)
Preview Download
କୋଣାର୍କ (ଫତୁରାନନ୍ଦ ସଂଖ୍ୟା)
Konarka (Faturananda Issue)
Preview Download
ଫତୁରାନନ୍ଦଙ୍କ ବିଷୟରେ
On Faturananda
Open