Srujanika Publications
Srujanika was born around 1980 with a diffused idea of spreading the spirit of science among people, especially the young. Over the years it evolved into a resource center on education and science and focused developed print and hands-on resources in these fields. These resource material were aimed at people interested in working with children – teachers, activists, parents, elder siblings… and helped in presenting science as an enjoyable and stimulating experience. Approach to meet this objective was through interactive processes like camps, workshops, discussions etc. which were supplemented by the printed material.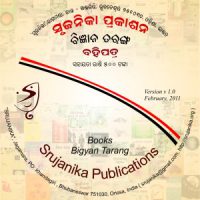 The printed material consisted of activity books as well as theme-based readers for the elder children and workers. Central to all these was the magazine 'Bigyan Tarang' launched in 1988. In addition to providing interesting content for and guiding activities, it served as a link among all involved with Srujanika. Initially Bigyan Tarang had 10 monthly issues with summer book special per year but changed to 6 issues plus three books later on. Publication of books with a broader readership were also taken up in collaboration of established publishers.
Changing educational scenario, the first victims of which were the local language and 'unprofitable' activities, took its toll. Interest in these activities started to wane and finally, publication of Bigyan Tarang and other books had to stop. Fortunately Srujanika's new activity with Odia language computing work, started in 2004, moved ahead and the present website is am outcome of that.
The table following lists Srujanika's publications and provides links for opening/previewing and for downloading these.
ସୃଜନିକା ପ୍ରକାଶନ — Srujanika Publications
କର୍ମ ସାଧନ Activity Books
ଖେଳି ଖେଳି ଶିଖିବା (୧୯୮୮)


Kheli Kheli Sikhiba (1988)


Preview Download
କାଗଜର ଖେଳ (୧୯୮୯)
Kagajara Khela (1989)
Preview Download
ଆକାରର ଦୁନିଆ (୧୯୯୧)
Akarara Dunia (1991)
Open
ଆମ ମନର ଗୀତ (୧୯୯୪)
Ama Manara Gita (1994)
Preview Download
କାଗଜ ଭଙ୍ଗାର ମଜା (୧୯୯୭)


Kagaja Bhangara Maja ('97)


Preview Download
କାଗଜରୁ ଆକୃତି (୧୯୯୮)


Kagajaru Akruti (1998)


Preview Download
ବିଜ୍ଞାନ ପହଳି (୧୯୯୮)
Bigyana Pahali (1998)
Preview Download
ଗଣିତ କୁହୁକ (୧୯୯୮)
Ganita Kuhuka (1998)
Preview Download
ଚିତ୍ର ପାହାଚରେ ଚିଡ଼ିଆଖାନା (୨୦୦୦)


Chitra Pahachare Chidiakhana (2000)


Preview Download
କାଗଜ ଭଙ୍ଗାରୁ ଜ୍ୟାମିତି (୨୦୦୦)


Kagaja Bhangaru Jyamiti (2000)


Preview Download
ହାତତିଆରି ଖେଳନା (୨୦୦୧)
Hatatiari Khelana (2001)
Preview Download
ସହଜରେ ଆଙ୍କିବା ଗଛଲତା (୨୦୦୧)


Sahajare Ankiba Gachhalata (2001)


Preview Download
ପତ୍ରରୁ ଚିତ୍ର (୨୦୦୨)
Patraru Chitra (2002)
Preview Download
ବିଜ୍ଞାନ ପରଖ (୨୦୦୩)
Bigyana Parakha (2002)
Preview Download
ପ୍ରକୃତି ପରଖ (୨୦୦୩)
Prakruti Parakha (2003)
Preview Download
ଅଠା କୁହୁକ (୨୦୦୫)
Atha Kuhuka (2005)
Preview Download
କିମିଆର ବିଞାନ (୨୦୦୫)
Kimiara Bigyana (2005)
Preview Download
ହାତ ପାଆନ୍ତାରେ ବିଜ୍ଞାନ (୨୦୦୫)


Hata Paantare Bigyana (2005)


Preview Download
ଅଳିଆରୁ ମଜାକାମ (୨୦୦୭)
Aliaru Majakama (2006)
Preview Download
ମଜା ବିଜ୍ଞାନ ପରଖ (୨୦୦୭)
Maja Bigyana Parakha
Preview Download
ପରିବେଶ/ପ୍ରକୃତି Environment/Nature
ଆମ ଘର ଏଇ ପୃଥିବୀ (୧୯୯୦)


Ama Ghara Ei Pruthibi (1990)


Open
ଗଛବଇଦ (୧୯୯୭)
Gachhabaida (1997)
Preview Download
ଓଡ଼ିଶା ପାଇଁ ଗଛ (୧୯୯୮)
Odisha pain Gachha (1998)
Open
ପରିବେଶର କଥା ଓ ବଥା (୧୯୯୮)


Paribesara Katha O Batha (1998)


Preview Download
ଜଳ ସମ୍ପଦ (୧୯୯୯)
Jala Sampada (1999)
Preview Download
ପରିବେଶ ପ୍ରଦୂଷଣ (୧୯୯୯)


Paribesa Pradushana (1999)


Preview Download
କୀଟ ଓ ତା'ର ଜାତିଭାଇ (୧୯୯୯)
Kita O Ta'ra Jatibhai (1999)
Preview Download
ପରିବେଶ, ବିକାଶ ଓ ଅଳିଆ(୧୯୯୯)


Paribesa, Bikasa O Alia (1999)


Download
ଜୀବନର ପିଲାଦିନ (୨୦୦୦)
Jibanara Piladina (2000)
Preview Download
ପରିବେଶ ଦର୍ପଣ (୨୦୦୧)
Paribesa Darpan (2001)
Preview Download
ପରିବେଶ ଓ ଆତ୍ମନିର୍ଭରଶୀଳତା (୨୦୦୨)
Paribesa O Atmanirbharashilata (2002)
Preview Download
ପଦେଛନ୍ଦେ ପରିବେଶ (୨୦୦୪)


PadeChhande Paribesa (2004)


Preview Download
ଓଡ଼ିଶାର ବନ୍ୟପ୍ରାଣୀ (୨୦୦୫)
Odishara Banyaprani (2005)
Preview Download
ଆକାଶ Sky
ରହସ୍ୟମୟ ମଙ୍ଗଳ (୧୯୯୦)
Rahasyamaya Mangal (1990)
Open
ସୂର୍ଯ୍ୟ ଆମ ବନ୍ଧୁ (୧୯୯୦)
Surya Ama Bandhu (1990)
Open
ଚନ୍ଦ୍ର ଅଭିଯାନ (୧୯୯୪)
Chandra Abhijan (1994)
Open
ଆସ ତାରା ଦେଖିବା (୧୯୯୫)
Asa Tara Dekhiba (1995)
Preview Download
ବିଶ୍ୱର ରୂପ (୧୯୯୫)
Biswara Rupa (1995)
Open
ଛାଇ ଆଲୁଅର ଖେଳ (୧୯୯୫)
Chhai Aluara Khela (1995)
Open
ଦି ଷ୍ଚୋରି ଅଫ୍ ଆୱାର ୟୁନିଭର୍ଶ (୧୦୦୫)


The Story of Our Universe (1995)


Open
ପରାଗ, ଗ୍ରହଣ ଓ ଧୂମକେତୁ (୧୯୯୭)
Paraga, Grahana O Dhumaketu (1997)
Preview Download
ଆକାଶରେ ଲୁଚକାଳି (୧୯୯୯)
Akashare Luchakali (1999)
Open
ଗ୍ରହ ସଞ୍ଚାର (୨୦୦୪)
Graha Sanchar (2004)
Preview Download
ବିଶେଷ/ସହଯୋଗ Special/Collaboration
ବିଜ୍ଞାନ କ'ଣ? (୧୯୯୦)
Bigyan Ka'na? (1990)
Open
ବୈଜ୍ଞାନିକ ଦୃଷ୍ଟିକୋଣ (୧୯୯୨)


Baigyanika Drustikone (1992)


Open
ଦିବାସ୍ୱପ୍ନ (୧୯୯୨)
Divaswapna (1992)
Preview Download
କାହିଁକି ଭାଇ କାହିଁକି (୧୯୯୬)
Kahinki Bhai Kahinki (1996)
Preview Download
ତୋତ୍ତୋ-ଚାନ୍ (୧୯୯୬)
Totto-chan (1996)
Preview Download
ଜହ୍ନଧରା ବାଇଆ (୧୯୯୭)
Jahnadhara Baia (1997)
Open
ଅଣୁରୁ ଅନ୍ତରୀକ୍ଷ (୧୯୯୯)
Anuru Antariksha (1999)
Preview Download
ମୋ ବନ୍ଧୁ ଶ୍ରୀ ଲିକୀ (୨୦୦୨)


Mo Bandhu Sri Leakey (2002)


Preview Download
ବିକାଶ ପାଇଁ ବିନାଶ (୨୦୦୩)
Bikas pain Binas (2003)
Preview Download
ଏକ୍ସପ୍ଲୋରିଙ୍ଗ ନେଚର୍ (୨୦୦୪)
Exploring Nature (2004)
Preview Download
ପ୍ରଶ୍ନକରେ ଅନାର୍‌କୋ (୨୦୦୪)
Prasnakare Anarko (2004)
Preview Download
ସାଇକେଲ୍‌ର କାହାଣୀ (୨୦୦୪)
Saikelra Kahani (2004)
Preview Download
ବିପ୍ଳବ ସୁଅରେ ପଦାର୍ଥ ବିଜ୍ଞାନ (୨୦୦୫)
Biplaba Suare Padartha Bigyana (2005)
Preview Download
ଗିଜୁଭାଇ ଶିକ୍ଷାନିଧି (୨୦୦୫)
Gijubhai Sikshanidhi (2005)
Preview Download
ପଦାର୍ଥ ବିଜ୍ଞାନର କାହାଣୀ (୨୦୦୭)
Padartha Bigyanara Kahani (2007)
Preview Download
ଅସୀମସନ୍ଧାନୀ ରାମାନୁଜନ୍ (୨୦୧୩)
Asimasandhani Ramanujan (2013)
Preview Download