Kishori Charan Das Compilation
Kishori Charan Das (1924-2004) is a well-known name in Odia literature having written 219 short stories over six decades. These have been published in 20 volumes along with other writings like novels, poetry, essays and autobiography. His works have been translated into other Indian languages and some foreign languages. His writings are marked by simple language, intense feelings and deep insight reflected in middle class characters. Most important of his works are the volumes of 'Tirisa barsara galpa o alapa' – Conversations on thirty years of stories. In these he has reflected on the background and after thoughts on his stories some thirty years after these were written. Four such volumes have been published and the fifth has been spirited away and remains unpublished. He was hospitalised soon after completing his autobiography but did not survive to see it in print, having passed away on 17th August 2004.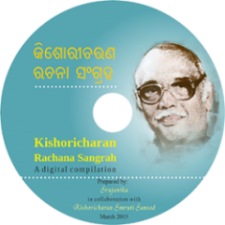 Kishori Charan was born on the 1st March 1924 to lawyer father Bipracharan Das and mother Sitamani Debi. Starting with early education at home he went onto schools at Bhadrakh and Kendrapada, Ravenshaw College and Patna University to complete his education. He joined administrative services after obtaining his law degree and spent time at various places within India and abroad. He continued his writings all along through his service days. Kishoricharan was a loving soul, sensitive and a lover of things beautiful. His love for Indian culture and tradition equaled his deep support for modern thoughts and beliefs.
Digital versions of Kishori Charan's writings can be accessed via the table below which provides links for opening/previewing/downloading these.