Sachi Rautray Compilation
Poet Sachidananda Rautray was born on the 13th May 1916 (1913?) in the village Gurujang near Khordha. His father Prasanna Kumar Rautray was a lawyer. Sachidananda was adopted by the elder brother of his father in early childhood. He spent most of his working life in Calcutta (Kolkata) as the labour officer at the Kesoram Cotton Mills which brought him in close contact with the workers and their problems.
Active in writing for over 75 years, Sachi Rautray was considered to have brought in ultramodern style into Odia literature. At the same time he also touched the public sentiment deeply and was called the people's poet. Revolutionary tone and content of his poems led to some of these being banned by the Bitish during the freedom struggle. Sachi Rautray's poems also bear the stamp of intense socialism and this led Gopinath Mohanty to label these poems as thunder.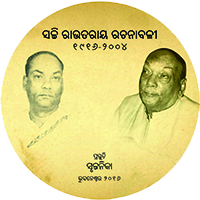 Sachi Rautray started writing at the age of 15 years, his first poem appearing in the children's magazine Panchamruta in 1928 and has left behind over 40 books in Odia and English from his long creative life. He received Padmashree (1962), Sahitya Akademi award (1963), Sovietland Nehru award (1965) and Jnanpith award (1986).
In addition to the poems he strived to present the literary and cultural heritage of Odisha in the National and International fora. He was deeply troubled by the improprieties found in the Odia literary sphere and tried to raise his voice against it. For him life was a phase of waiting. He used to say, "what is lived is life, not what is acted." He viewed man firstly as human, not animal nor god and maintained that one who does not see the humanness in man does not see anything.
The table below presents the writings of Sachidananda in digital form. Clicking on the images will open a preview of the work. The complete file can be opened/downloaded by clicking on the 'Download' link below the image.
ସଚ୍ଚିଦାନନ୍ଦ ସର୍ଜନା ସୂଚୀ / Sachi Rautray Writings
କବିତା – Poetry
ଅଭିଯାନ (୧୯୩୮)
Abhijana (1938)
Download
ରକ୍ତଶିଖା (୧୯୩୯)
Raktasikha (1939)
Download
ପଲ୍ଲିଶ୍ରୀ (୧୯୪୧)
Pallisree (1941)
Download
ବାଜି ରାଉତ (୧୯୪୩)
Baji Raut (1943)
Download
ପାଣ୍ଡୁଲିପି (୧୯୪୭)
Pandulipi (1947)
Download
ଅଭିଜ୍ଞାନ (୧୯୪୯)
Abhijnana (1949)
Download
ଭାନୁମତୀର ଦେଶ (୧୯୪୯)
Bhanumatira Desa (1949)
Download
ହସନ୍ତ (୧୯୫୦)
Hasanta (1950)
Download
ସ୍ୱଗତ (୧୯୫୮)
Swagata (1958)
Download
କବିତା ୧୯୬୨ ଓ ନୂତନ କବିତାର ଭୂମିକା (୧୯୬୨)
Kabita 1962 O Nutana Kabitara Bhumika (1962)
Download
ଚିର ପ୍ରଦୀପ୍ତ (୧୯୬୯)
Chira Pradipta (1969)
Download
ଏସିଆର ସ୍ୱପ୍ନ (୧୯୭୦)
Esiara Swapna (1970)
Download
କବିତା ୧୯୬୯ (୧୯୭୦)
Kabita 1969 (1970)
Download
କବିତା ୧୯୭୧ (୧୯୭୨)
Kabita 1971 (1972)
Download
କବିତା ୧୯୭୪ (୧୯୭୫)
Kabita 1974 (1975)
Download
କବିତା ୧୯୮୩ (୧୯୮୩)
Kabita 1983 (1983)
Download
କବିତା ୧୯୮୫ (୧୯୮୫)
Kabita 1985 (1985)
Download
କବିତା ୧୯୮୭ (୧୯୮୭)
Kabita 1987 (1987)
Download
କବିତା ୧୯୯୦ (୧୯୯୧)
Kabita 1990 (1991)
Download
କବିତା ୨୦୦୩ (୨୦୦୩)
Kabita 2003 (2003)
Download
ପ୍ରବନ୍ଧ – Essay
ସାହିତ୍ୟ ବିଚାର ଓ ମୂଲ୍ୟବୋଧ (୧୯୩୫)
Sahitya Bichara Mulyabodha (1935)
Download
ସାହିତ୍ୟରେ ମୂଲ୍ୟବୋଧ (୧୯୭୨)
Sahityare Mulyabodha (1972)
Download
କବିତା – ୧୯୭୪ ପ୍ରାକ୍-କଥାନି (୧୯୭୫)
Kabita – 1974 Prak Kathani (1975)
Download
ଆଧୁନିକ ସାହିତ୍ୟର କେତେକ ଦିଗ (୧୯୮୩)
Adhunika Sahityara Keteka Diga (1983)
Download
ପ୍ରବନ୍ଧ ପ୍ରାମାଣିକ (୨୦୦୪)
Prabandha Pramanika (2004)
Download
ଗଳ୍ପ ଓ ଉପନ୍ୟାସ – Story and Novel
ମଶାଣିର ଫୁଲ (୧୯୪୫)
Masanira Phula (1945)
Download
ମାଟିର ତାଜ (୧୯୪୫)
Matira Taj (1945)
Download
ଛାଇ (୧୯୫୦)
Chhai (1950)
Download
ମାଙ୍କଡ଼ ଓ ଅନ୍ୟାନ୍ୟ ଗଳ୍ପ (୧୯୮୪)
Mankada O Anyanya Galpa (1984)
Download
ନୂତନ ଗଳ୍ପ (୧୯୯୦)
Nutana Galpa (1990)
Download
ଚିତ୍ରଗ୍ରୀବ (ଉପନ୍ୟାସ, ୧୯୩୬)
Chitragriba (1936)
Download
ଗ୍ରନ୍ଥାବଳୀ, ଆତ୍ମଜୀବନୀ, ଅନ୍ୟାନ୍ୟ – Collected works, Autobiography, others
ସଚ୍ଚି ରାଉତରାୟ ଗ୍ରନ୍ଥାବଳୀ, ଭାଗ ୧ (୧୯୬୫)
Sachi Rautray Granthabali, v.01 (1965)
Download
ସଚ୍ଚି ରାଉତରାୟ ଗ୍ରନ୍ଥାବଳୀ, ଭାଗ ୨ (୧୯୭୬)
Sachi Rautray Granthabali, v.02 (1976)
Download
ସଚ୍ଚି ରାଉତରାୟ ଗ୍ରନ୍ଥାବଳୀ (୨୦୦୧)
Sachi Rautray Granthabali (2001)
Download
ସଚ୍ଚି ରାଉତରାୟ ଗ୍ରନ୍ଥାବଳୀ (୨୦୧୬)
Sachi Rautray Granthabali (2016)
Open
ଉତ୍ତରକକ୍ଷ, ଭାଗ ୧ (୧୯୯୮)
Uttarakaska, v.01 (1998)
Download
ଉତ୍ତରକକ୍ଷ, ଭାଗ ୨ (୨୦୦୦)
Uttarakaska, v.02 (୨୦୦୦)
Download
ପୂର୍ଣ୍ଣିମା (୧୯୩୨)
Purnima (1932)
Download
ଅନୁବାଦ ଓ ଅନୁବାଦିତ – Translation and Translated
ପ୍ରେସିଡେଣ୍ଟ ନିକ୍ସନ (୧୯୬୯)
President Nixon (1969)
Download
ମାୟାକୋଭସ୍କି କବିତା ସଂଗ୍ରହ (୧୯୬୫)
Mayakosky Kabita Sangraha (1965)
Download
ଏକାନ୍ତେ ବନ୍ଧୁର ମୁଖ (୧୯୭୪)
Ekante Bandhur Mukha (1974)
Download
ଏକୋଇଶଟି ବାଂଲା ଗଳ୍ପ (୧୯୮୪)
Ekoisiti Bangla Galpa
Download
ରବୀନ୍ଦ୍ରନାଥଙ୍କ ୧୦୧ କବିତା (୧୯୪୭)
Rabindranathnka 101 Kabita (1947)
Download
ଅନ୍ଧାରୁଆ (ହିନ୍ଦୀ, ୧୯୮୮)
Andharua (Hindi, 1988)
Download
ବସନ୍ତ କେ ଏକାନ୍ତ ଜିଲେ ମେଁ (ହିନ୍ଦୀ, ୧୯୮୮)
Basant Ke Ekant Jile Me (Hindi, 1988)
Download
ମଶାନ୍ କେ ଫୁଲ୍ (ହିନ୍ଦୀ, ୧୯୯୫)
Masan Ke Phul (Hindi, 1995)
Download
ଦି ବୋଟ୍‌ମ୍ୟାନ୍ ବୟ ଆଣ୍ଡ ଫର୍ଟି ପୋଏମ୍‌ସ୍ (୧୯୫୪)
The Boatman Boy and Forty Poems (1954)
Download
ପ୍ରତିମା ନାୟକ ଆଣ୍ଡ ଅଦର୍ ପୋଏମ୍‌ସ୍ (୧୯୮୩)
Pratima Naik and Other Poems (1983)
Download
ଭର୍ଟିକାଲ୍‌ସ୍ ଅଫ୍ ଲାଇଫ୍ (୧୯୯୬)
Verticals of Life (1996)
Download
ହ୍ୱେର୍ ଫ୍ଲୋଜ୍ ଦି ଭାନୁମତୀ (୧୯୮୮, ୧୯୯୨, ୨ୟ)
Where Flows the Bhanumati (1988, 2e. 1992)
Download
ସର୍ଟ ଷ୍ଟୋରିଜ୍ (୧୯୭୨)
The Short Stories (1972)
Download
ସ୍ରଷ୍ଟା ଓ ସମୀକ୍ଷା – Creator and Review
କବି ସଚ୍ଚି ରାଉତରାୟଙ୍କ ପାଣ୍ଡୁଲିପି (୧୯୯୩)
Kabi Sachi Rautraynka Pandulipi (1993)
Download
କବି ସଚ୍ଚି ରାଉତରାୟ ଓ ଗୁରୁପ୍ରସାଦ (୧୯୭୨)
Kabi Sachi Rautray O Guruprasad (1972)
Download
କାବ୍ୟ ସରସ୍ୱତୀ ସଚ୍ଚି ରାଉତରାୟ (୨୦୦୫)
Kabya Saraswati Kabi Sachi Rautray (2005)
Download
କୋଣାର୍କ (୨୦୦୫)
Konarka (2005)
Download
ଓଡ଼ିଆ କଥା ସାହିତ୍ୟକୁ ସଚ୍ଚି ରାଉତରାୟଙ୍କ ଅବଦାନ (୨୦୦୦)
Odia Katha Sahityaku Kabi Sachi Rautraynka Abadana (2000)
Download
ସଚ୍ଚି ରାଉତରାୟ – ଏ ପୋଏଟ୍ ଅଫ୍ ଦି ପିଉପଲ୍ (୧୯୫୫)
Kabi Sachi Rautray – A Poet of the People (1955)
Download
ସଚ୍ଚି ରାଉତରାୟ ଅଭିନନ୍ଦନ ଗ୍ରନ୍ଥ (୧୯୮୬)
Kabi Sachi Rautray Abhinandana Grantha (1986)
Download
ସଚ୍ଚି ରାଉତରାୟଙ୍କ କବିତା – ୧୯୩୧-୧୯୭୪ (୧୯୭୭)
Kabi Sachi Rautraynka Kabita – 1931-1974 (1977)
Download
ସଚ୍ଚି ରାଉତରାୟ – ଦି ପୋଏଟ୍ (୧୯୮୮)
Sachi Rautray – The Poet (1988)
Download
ସଚ୍ଚିଦାନନ୍ଦ ରାଉତରାୟ (୨୦୦୪)
Sachidananda Rautray ( (2004)
Download

ଶ୍ରେଷ୍ଠ କବିତା (୧୯୯୬)
Srestha Kabita (1996)
Download
ମହାକବି ସଚ୍ଚି ରାଉତରାୟ
Mahakabi Sachi Rautray
Open
କାଳାନ୍ତର ସ୍ରଷ୍ଟା ସଚ୍ଚି ରାଉତରାୟ
Kalantara Srasta Sachi Rautray
Open
ହେ ଜ୍ୟେଷ୍ଠ ହେ ଶ୍ରେଷ୍ଠ
He Jyestha He Srestha
Open