Sridhar Das Compilation
Professor Sridhar Das was a children's writer, essayist, educationist, poet, dramatist, translator, grammarian, all in one person. But he was primarily a teacher at heart. His life was full of struggle, but it never got him down.
Sridhar was born on October 4, 1901 at Nausira village of Kakatpur, Puri district. Syamacharan Das was his father and his mother was Sradhamani Devi. Syamacharan was a lower primary teacher. Sridhar at the age of 5, started his education at his father's school. The he went to Puri Zilla school and completed matriculation in 1922. He got admitted to Patna engineering school and got a scholarship of 20 rupees per month. Once he was fined ten rupees for an unpleasant incident. But he refused to pay the fine and left engineering studies. Then he finished his Intermediate college education in 1924 with an I.A. degree.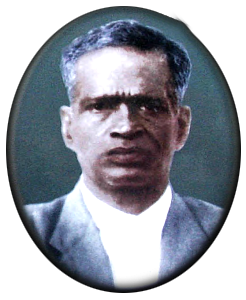 With lot of struggle he passed B.A. and took teacher's training. He joined a school at Boudh and then moved to Olasingh High school. In 1948 he joined Ravenshaw college as a lecturer. But he left the government service and joined Christ college. After teaching for 44 years, he retired in 1968. He retired from his job, but his teaching was continued till his death.
Sridhar Das's writing includes grammar to dictionary, textbook to editing of various ancient writing, huge number of translation. His biggest contribution is the translation of world classics for adolescents. He has written 11 grammar books, 3 dictionaries and 24 textbooks. A total of 76 books have been translated by him. These include 22 from Sanskrit and 54 from English. He has also edited books like Chilika, Darabar, Chandrabhaga, Ushabhilasa, Rasakallola etc. to be used as college textbooks.
His autobiography is 'Sua Muhanra Patara' (A Leaf in the Stream). Although he wrote the book at an advanced age, the writing of this, his recollection of events appear sharp and he describes many incidents very lucidly. Whether his autobiography, translated works, edited books or other writings, all were very readable and popular. Such a great teacher-writer passed away on 24 April 1988. But he will live forever through his writings.
Unfortunately many books (about 70 titles) of Sridhar Das could not be found. These can be added in the compilation if anyone can provide the copies.
Digital versions of Sridhar Das's available writings can be accessed via the table below. Complete books in pdf format can be opened/downloaded by clicking on the 'open/download' links.
ଶ୍ରୀଧର ଦାସ ସର୍ଜନା ସୂଚୀ
ଅନୁବାଦ – Translation
ଅହମିକା ଓ ଭ୍ରାନ୍ତି (୧୯୭୩)
Ahamika O Bhranti (1973)
open/Download
ଆଲିବାବା
(୧୯୭୪)
Alibaba (1974)
open/Download
ଅଲିଭର ଟୁଇଷ୍ଟ
(୧୯୭୨)
Aliver Tuist
(1972)
open/Download
ଆମ ଓଡ଼ିଶାର କଥା (ନୂ. ୧୯୭୮)
Ama Odishara Katha (n. 1978)
open/Download
ଅଶୀ ଦିନରେ ପୃଥିବୀ ପରିକ୍ରମଣ (୧୯୭୦, ୨ୟ. ୧୯୭୨)
Asi Dinare Pruthibi Parikramana (1970, 2p. 1972)
open/Download
ବାଉଣ୍ଟି ଜାହାଜରେ ବିଦ୍ରୋହ (୧୯୭୭)
Baunti Jhajare Bidroha (1977)
open/Download
ବେତାଳ ପଞ୍ଚବିଂ‌ଶତି (୧୯୭୫)
Betala Panchabinsati (1975)
open/Download
ବିଚିତ୍ର ତାବିଜ (୧୯୭୦)
Bichitra Tabija (1970)
open/Download
ବିଶ୍ୱ ସାହିତ୍ୟ, ଭାଗ ୧ (୧୯୫୭)
Biswa Sahitya, v.01 (1957)
open/Download
ବିଶ୍ୱ ସାହିତ୍ୟ, ଭାଗ ୨ (୧୯୫୭)
Biswa Sahitya, v.02 (1957)
open/Download
ଚନ୍ଦ୍ରକାନ୍ତ ମଣି (୧୯୭୨, ନୂ. ୨୦୦୮)
Chandrakanta Mani (1972, n. 2008)
open/Download
ଚେକଭ କାହାଣୀ (୧୯୭୧)
Chekov Kahani (1971)
open/Download
ଡେଭିଡ କପରଫିଲ୍‌ଡ (୧୯୭୨)
Devid Coperfild (1972)
open/Download
ଗଲିଭରର ଭ୍ରମଣ କାହାଣୀ (୧୯୭୦, ୨ୟ ୧୯୭୨)
Galivar'ra Bhramanakahani (1970, 2e. 1972)
open/Download
ଗର୍କି କାହାଣୀ (୧୯୭୨)
Garki Kahani (1972)
open/Download
ଗ୍ରୀସ ଦେଶର ପୁରାଣ କାହାଣୀ (୧୯୭୫, ନୂ. ୨୦୧୨)
Gris Desara Purana Kahani (1975, rp. 2012)
open/Download
ଗ୍ରୀସ ଦେଶର ଉପକଥା (୨ୟ. ୧୯୭୨)
Gris Desara Upakatha (2p. 1972)
open/Download
ଗୃହୀ ଓ ସନ୍ନ୍ୟାସୀ (୧୯୭୫)
Gruhi o Sanyasi (1975)
open/Download
ହିତୋପଦେଶ, ଭାଗ ୧ ମିତ୍ରଲାଭ (୧୯୭୧)
Hitopadesa, v.01 – Mitralabha (1971)
open/Download
ହିତୋପଦେଶ, ଭାଗ ୨ ସୁହୃଦଭେଦ (୧୯୭୧)
Hitopadesa, v.02 – Suhrudabheda (1971)
open/Download
ହିତୋପଦେଶ, ଭାଗ ୩ ବିଗ୍ରହ ଓ ସନ୍ଧି (୧୯୭୨)
Hitopadesa, v.03 – Bigraha o Sandhi (1972)
open/Download
ହୋମର କାହାଣୀ (୧୯୭୨)
Homar Kahani (1972)
open/Download
ଇଶପ କାହାଣୀ (୧୯୭୩)
Isap Kahani (1973)
open/Download
ଆଇଭାନ ହୋ (୧୯୭୧)
Ivan Ho (1971)
open/Download
ଜର୍ଜ ୱେଷ୍ଟିଂହସ୍ (୧୯୬୮)
Jarj Westinghaus (1968)
open/Download
ଜାତକ କାହାଣୀ, ଭାଗ ୧ (୧୯୭୨, ନୂ.୧୯୭୪)
Jataka Kahani, v.01 (1972, n. 1974)
open/Download
ଜାତକ କାହାଣୀ, ଭାଗ୨ (୧୯୭୫)
Jataka Kahani, v.02 (1975)
open/Download
ଜାତକ କାହାଣୀ, ଭାଗ ୩ (୧୯୭୫)
Jataka Kahani, v.03 (n. 1975)
open/Download
ଜାତକ କାହାଣୀ, ଭାଗ ୪ (୧୯୭୨, ନୂ ୧୯୭୬)
Jataka Kahani, v.04 (1972, n. 1976)
open/Download
କଳାଶର (୧୯୭୩, ନୂ. ୨୦୧୨)
Kalasara (1973, n. 2012)
open/Download
ଲିଓ ଟଲଷ୍ଟୟଙ୍କ ଗଳ୍ପମାଳା (୧୯୫୮)
Lio Talstoynka Galpamala (1958)
open/Download
ମାଳବିକା-ଅଗ୍ନିମିତ୍ର (୧୯୮୨. ନୂ. ୨୦୧୨)
Malabika-Agnimitra (1982, 2p. 2012)
open/Download
ମୋପାସାଁ କାହାଣୀ (୧୯୭୭)
Mopasan Kahani (1977)
open/Download
ମୋପାସାଁ କାହାଣୀ, ଭାଗ ୧ (୧୯୭୨)
Mopasan Kahani, v.01 (1972)
open/Download
ମୋପାସାଁ କାହାଣୀ, ଭାଗ ୨ (୧୯୭୩)
Mopasan Kahani, v.02 (1973)
open/Download
ମୋପାସାଁ କାହାଣୀ, ଭାଗ ୪ (୧୯୭୮)
Mopasan Kahani, v.04 (1978)
open/Download
ମୃଚ୍ଛକଟିକ ଓ ମୁଦ୍ରାରାକ୍ଷାସ (୧୯୭୬)
Mruchhakatika o Mudrarakshasa (1976)
open/Download
ଓଏକଫିଲ୍‌ଡ୍‌ର ଭାଇକାର (୧୯୭୬)
Oekphild'ra Bhaikar (1976)
open/Download
ପଞ୍ଚତନ୍ତ୍ର, ଭାଗ ୧ ଖଣ୍ଡ ୧ (୨ୟ. ୧୯୭୪)
Panchatantra, v.01, pt.01 (2p. 1974)
open/Download
ପଞ୍ଚତନ୍ତ୍ର, ଭାଗ ୧ ଖଣ୍ଡ ୨ (୨ୟ ୧୯୭୩)
Panchatantra, v.01, pt.02 (2p. 1973)
open/Download
ପଞ୍ଚତନ୍ତ୍ର ଭାଗ ୨ (୨ୟ ୧୦୭୪)
Panchatantra, v.02 (2p. 1974)
open/Download
ପଞ୍ଚତନ୍ତ୍ର ଭାଗ ୩ (୨ୟ ୧୯୭୪)
Panchatantra, v.03 (2p. 1974)
open/Download
ପଞ୍ଚତନ୍ତ୍ର ଭାଗ ୪ (୨ୟ ୧୯୭୪)
Panchatantra, v.04 (2p. 1974)
open/Download
ପଞ୍ଚତନ୍ତ୍ର ଭାଗ ୫ (୧୯୭୨, ୨ୟ ୧୯୭୭)
Panchatantra, v.05 (1972, 2p. 1977)
open/Download
ରବିନ ହୁଡ (୧୯୬୭)
Rabinhud (1967)
open/Download
ରାମାୟଣ କାହାଣୀ (୧୦୦୧, ୩ୟ ୨୦୧୨)
Ramayana Kahani (2001, 3e. 2012)
open/Download
ରତ୍ନଦ୍ୱୀପ (୧୯୭୧, ନୂ ୨୦୦୯)
Ratnadipa (1971, rp. 2009)
open/Download
ରିପ ଭାନ ୱିଙ୍କଲ୍ (୧୯୭୮)
Rip Bhan Winkle (1978)
open/Download
ସେକସପିଅର ଗଳ୍ପ (୧୯୫୭)
Sakespiar Galpa (1957)
open/Download
ସେକସପିଅର କାହାଣୀ, ଭାଗ ୧ (୧୯୭୦, ୨ୟ ୧୯୭୬)
Sakespiar Kahani v.01 (1970, 2p.1976)
open/Download
ସେକସପିଅର କାହାଣୀ, ଭାଗ ୨ (୧୯୭୦, ୨ୟ ୧୯୭୬)
Sakespiar Kahani v.02 (1970, 2p.1976)
open/Download
ସେକସପିଅର କାହାଣୀ, ଭାଗ ୩ (୧୯୭୦, ୨ୟ ୧୯୭୨)
Sakespiar Kahani v.03 (1970, 2p.1972)
open/Download
ସମୁଦ୍ର ଗର୍ଭରେ କୋଡ଼ିଏ ହଜାର ଲିଗ୍ ଭ୍ରମଣ (୧୯୭୧, ୨ୟ ୧୯୭୩)
Samudra Garbhare Kodie Hajar Lig Bhramana (1971, 2p. 1973)
open/Download
ସୋରାବ ଓ ରୁସ୍ତମ (୨ୟ ୧୯୪୯)
Sorab o Rustam (2p. 1949)
open/Download
ଶ୍ରୀ (୧୯୭୩)
Sri (1973)
open/Download
ଟାଇମ ମେସିନ (୧୯୭୨)
Time Machine (1972)
open/Download
ଟଲଷ୍ଟୟ କାହାଣୀ, ଭାଗ ୧ (୧୯୭୧)
Tolstoy Kahani, v.01 (1971)
open/Download
ଟଲଷ୍ଟୟ କାହାଣୀ, ଭାଗ ୨ (୧୯୭୧)
Tolstoy Kahani, v.02 (1971)
open/Download
ଟଲଷ୍ଟୟ କାହାଣୀ, ଭାଗ ୩ (୧୯୭୬)
Tolstoy Kahani, v.03 (1976)
open/Download
ଟମ ସଏର (୧୯୭୧, ନୂ. ୧୯୭୩)
Tom Sayar (1971, rp. 1973)
open/Download
ଟମକକାଙ୍କ କେବିନ (ନୂ. ୧୯୯୨)
Tomkakanka Kebin (np. 1992)
open/Download
ମାର୍କିନ ସମାଜର ଗୋଟିଏ ସଂଖ୍ୟାଲଘୁ ସମ୍ପ୍ରଦାୟ (୧୯୬୫)
Markin Samajara Gotie Sankhyalaghu Sampradaya (1965)
open/Download
ପୃଥିବୀ ପାଇଁ ଜଳ
Pruthibi Pain Jala
open/Download
ଭିଏତ କଙ୍ଗ୍ (୧୯୬୬)
Viet Cong (1966)
open/Download
ଭିଏତମାନ ଯୁଦ୍ଧ କାହିଁକି (୧୯୬୬)
Vietnam Judhha Kahinki (1966)
open/Download
ବ୍ୟାକରଣ ଓ ଅଭିଧାନ – Grammar and Dictionary
ଅଳଙ୍କାର ମଞ୍ଜରୀ (ନୂ. ୧୯୬୫)
Alankara Manjari (n. 1965)
open/Download
ଅଳଙ୍କାର ପ୍ରବେଶ (୧୯୫୧)
Alankara Prabesa (1951)
open/Download
ଇଂଲିଶ-ଓଡ଼ିଆ ଡିକ୍‌ସିନାରୀ (୧୯୬୬)
English-Oriya Dictionary (1966)
open/Download
ସଂସ୍କୃତ ବ୍ୟାକରଣ ପ୍ରବେଶ (୨ୟ ୧୯୫୩)
Samskruta Byakarana Prabesa (2e. 1953)
open/Download
ସର୍ବସାର ବ୍ୟାକରଣ (୭ମ. ୧୯୫୨)
Download
Sarbasara Byakarana (7e, 1952)
open/Download
ପାଠ୍ୟପୁସ୍ତକ – Textbooks
କବିତା ପ୍ରବେଶ ସହଚର ୧୯୫୨-୫୩ (୧୯୫୪)
Kabita Prabesa Sahachara, 1952-53 (1950)
open/Download
କବିତା ପ୍ରବେଶ ସହଚର ୧୯୫୩-୫୪
Kabita Prabesa Sahachara, 1953-55
open/Download
କଥା ସୁମନ (ନୂ. ୧୯୫୯)
Katha Sumana (n. 1959)
open/Download
କୀଚକ ବଧ ସମୀକ୍ଷା (୧୯୬୬)
Kichaka Badha Samikshya (1966)
open/Download
ମଞ୍ଜୁଷା (ନୂ. ୧୯୬୭)
Manjusa (n. 1967)
open/Download
ନବସାହିତ୍ୟ ସହଚର, ଭାଗ ୧ (୧୯୬୨)
Nabasahitya Sahachara, v.01 (1962)
open/Download
ନବସାହିତ୍ୟ ସହଚର, ଭାଗ ୨ (୧୯୬୨)
Nabasahitya Sahachara, v.02 (1962)
open/Download
ନୂତନ ସାହିତ୍ୟ ସଂଗ୍ରହ (ନୂ. ୧୯୫୪)
Nutana Sahitya Sangraha (n. 1954)
open/Download
ପାଠ କଳିକା (ନୂ. ୧୯୬୩)
Patha Kalika (np. 1963)
open/Download
ପାଠ ପ୍ରଦୀପ, ଭାଗ ୪ (ନୂ. ୧୯୬୩)
Patha Pradipa, v.04 (n. 1963)
open/Download
ଆତ୍ମଜୀବନୀ ଓ ଜୀବନୀ – Autobiography and Biography
ସୁଅ ମୁହଁ ପତର (୧୯୮୨, ୪ର୍ଥ ୨୦୧୪)
Sua Munhara Patara (1982, 4p. 2014)
open/Download
ଏ ଲିଫ୍ ଇନ୍ ଦି ଷ୍ଟ୍ରିମ୍ (୨୦୦୬)
A Leaf in the Stream (2006)
open/Download
ଅମର ଚରିତ – ନନ୍ଦ କିଶୋର ବଳ (୧୯୫୫)
Amar Charita – Nanda Kishor Bal (1955)
open/Download
ଅମର ଚରିତ – ଗଙ୍ଗାଧର ମେହେର (୨ୟ ୧୯୫୪)
Amara Charita – Gangadhar Meher (2e. 1954)
open/Download
ଅମର ଚରିତ – ସାଧୁ ସୁନ୍ଦର ଦାସ (୨ୟ ୧୯୫୫)
Amara Charita – Sadhu Sundar Das (2e. 1955)
open/Download
ଜୀବନୀ ବର୍ତ୍ତିକା (୧୯୬୧)
Jibani Bartika (1961)
open/Download
କବିସୂର୍ଯ୍ୟ (୨ୟ ୧୯୫୪)
Kabisurya (2e. 1954)
open/Download
ପଞ୍ଚ ପ୍ରଦୀପ (ନୂ. ୧୯୬୩)
Pancha Pradipa (n. 1963)
open/Download
ଅନ୍ୟାନ୍ୟ – Miscellaneous
ଆଦର୍ଶ ମଣିଷ ଶ୍ରୀଧର ଦାସ (୧୯୭୩)
Adarsa Manisa Sridhara Das (1973)
open/Download
ଅଧ୍ୟାପକ ଶ୍ରୀଧର ଦାସ
(୨୦୦୮)
Adhyapaka Sridhar Das (2008)
open/Download
ମନୀଷୀ ଶ୍ରୀଧର (୨୦୧୮)
Manisi Sridhara (2018)
open/Download
ଶ୍ରୀଧର ସ୍ମରଣିକା
Sridhar Smaranika
open/Download
ଶ୍ରୀଧର ସ୍ମରଣେ (୧୯୯୭)
Sridhara Smarane (1997)
open/Download
ସ୍ତବକ (୨୯୫୧)
Stabaka (1951)
open/Download
ମଥୁରାମଙ୍ଗଳ (୧୯୬୬)
Mathuramangala (1775; 1966)
open/Download
ଉଷାଭିଳାଷ (୧୯୭୧)
Usabhilasa (S1971)
open/Download
ରସକଲ୍ଲୋଳ (୧୯୬୭)
Raskallola (1967)
open/Download