Sudarshan Acharya Compilation
Sudarshan Acharya (28 January, 1939 – 01 December, 2022) was born in Jarada in the Ganjam district to Jatiraj and Rukmini. His learning started with Sanskrit at home. His formal education took him to Nuapada High School, Khalikote College and Ravenshaw College ending with a post-graduate degree. He took up teaching positions first at Srikakulam in Andhra Pradesh and then at Khalikot College and Brahmapur University. He retired from the University in 1999 after a long career in Odia Literature. His work involved the collection of many rare manuscripts and printed literature which he edited with insightful commentary. His compilation of the rare Indradhanu magazine shed much light on how the strong dispute between the supporters of Upendra Bhanja and Radhanath led to the dawn of modernity in Odia literature.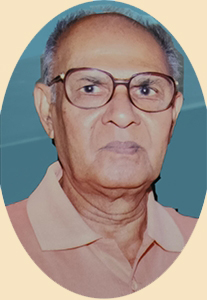 Prof. Acharya's writing efforts started from his school days with some mystery stories and poems. This grew with time and he produced valuable works in the fields of criticism, editing and translation. His research work on ancient literature led to the publications with recovered text and commentary. Some of his notable contributions are: Chitralekha (2001), Upendra Bhanja's first kavya, which he transcribed from palm leaf manuscripts. A few others are – Sribishnu Purana (2013), Srirama Rasayana (2015), Usha Abhilasha (2010), Rekha o Ranga (2015), Antapurara Abhilekha (2015), Padmanabha Narayana Deb Granthabali (1992) and rare early Odia magazines Indradhanu, Utkala Madhupa o Pradeepa. In addition to his deep knowledge of Odia language, he was proficient in Sanskrit, English and Telugu languages.
Among the many awards and honour received by Prof Acharya are Sahitya Akademi award for translation, Atibadi Jagannath Das award (Odisha Sahitya Akademi), Govt. of India Bhasha Bharati honour (Mysore) and from many institutions like Utkal Sahitya Samaj, Odia Pathaka Samsad, Esana, Jagannath Sanskrit University. A passionate researcher, dedicated teacher and committed literature lover, Prof. Sudarshan Acharya was an 'Acharya' in the truest sense of the word.
(Based on Sambad Sahityakosha entry)
Prof. Acharya had a fond association with Odia Bibhaba. From opening up his vast collection of important books, giving suggestions for new additions to just chatting about problems with contemporary literary scene, he was always available to us. This page is a small tribute to him in recognition of his contributions.
Many friends have contributed to the creation of this page. Notable among them are: Kedarnath Gabeshana Parishad, Dr. Fanidra Bhushan Nanda, Dr. Krushna Chandra Pradhan, Sri Ashish Mohanty, Prof. Gouranga Charan Dash, Dr. Kailash Chandra Das, Sri Asit Mohanty.
Digital versions of Sudarshan Acharya's writings can be accessed via the table below which provides links for downloading these. Complete books in pdf format can be downloaded by clicking on the 'download' links.
ସୁଦର୍ଶନ ଆଚାର୍ଯ୍ୟ ରଚନା ସୂଚୀ – Sudarshan Acharya Writings
ଅନ୍ତପୁରର ଅଭିଲେଖ (୨୦୧୫)
Antahpurara Abhilekha (2015)
Download
ବେଣୀମାଧବ ଗ୍ରନ୍ଥାବଳୀ, ଭାଗ ୧ (୨୦୧୯)
Benimadhab Granthabali v.01 (2019)
Download
ଚିତ୍ରଲେଖା(୨୦୦୧)
Chitralekha (2001)
Download
ଗୋପାଳ ଚନ୍ଦ୍ର ପ୍ରହରାଜ ବ୍ୟକ୍ତି ଓ ବ୍ୟକ୍ତିତ୍ୱ (୨୦୧୦)
Gopalachandra Praharaj Byakti O Byaktittwa (2010)
Download
ଗୋପୀନାଥ ନନ୍ଦ ଗ୍ରନ୍ଥାବଳୀ, ଭାଗ ୧ (୨୦୧୧)
Gopinatha Nanda Granthabali, v.01 (2011)
Download
ଜାନକୀଶ ବିଳାସ ()
Janakisa Bilasa ()
Download
ଜୀବନ ଚରିତ (୧୯୯୩)
Jibana Charita (1993)
Download
କାଳିଦାସ ଶୁକ୍ତୟଃ (୨୦୧୮)
Kalidas Suktayah (2018)
Download
କଥାସରିତ ସାଗର, ଭାଗ ୧ (୧୯୬୯)
Katha Sarita Sagara, v.01 (1969)
Download
କଥା ବିଥିକା (୧୯୬୭)
Katha-Bithika (1967)
Download
କଥାସରିତ ସାଗର, ଭାଗ ୨ (୨୦୦୪)
Kathasarita Sagar v.02 (2004)
Download
କଥାସରିତ ସାଗର, ଭାଗ ୩ (୨୦୦୫)
Kathasarita Sagar v.05 (2005)
Download
କଥାସରିତ ସାଗର, ଭାଗ ୪ (୨୦୦୫)
Kathasarita Sagar v.05 (2005)
Download
କଥାସରିତ ସାଗର, ଭାଗ ୫ (୨୦୦୭)
Kathasarita Sagar v.05 (2007)
Download
ଲକ୍ଷ୍ମୀ ପୁରାଣ (୨୦୧୮)
Laxmi Purana (2018)
Download
ଓଡ଼ିଆ କାବ୍ୟ କୌଶଳ (୧୯୮୩, ୨୦୦୨)
Odia Kabya Kousala (1983, 2002)
Download
ଓଡ଼ିଶାର ଅସ୍ମିତା ସନ୍ଧାନ ଓ ଉପେନ୍ଦ୍ର ଭଞ୍ଜ କାବ୍ୟାଲୋଚନା (୨୦୧୩)
Odishara Asmita Sandhana O Upendra Bhanja Kabyalochana (2013)
Download
ପଦ୍ମନାଭ ନାରାୟଣ ଦେବ ଗ୍ରନ୍ଥାବଳୀ (୨୦୧୧)
Padmanabha Narayana Deba Granthabali (2011)
Download
ରାମଚନ୍ଦ୍ର ଗ୍ରନ୍ଥାବଳୀ, ଭାଗ ୧ (୧୯୯୦)
Ramachandra Granthabali v.1 (1990)
Download
ରାମଚନ୍ଦ୍ର ଗ୍ରନ୍ଥାବଳୀ, ଭାଗ ୨ (୧୯୯୨)
Ramachandra Granthabali v.2 (1992)
Download
ରାମଚନ୍ଦ୍ର ଗ୍ରନ୍ଥାବଳୀ, ଭାଗ ୩ (୧୯୯୫)
Ramachandra Granthabali v.3 (1995)
Download
ରାମଚନ୍ଦ୍ର ଗ୍ରନ୍ଥାବଳୀ, ଭାଗ ୪ (୧୯୯୯)
Ramachandra Granthabali v.4 (1999)
Download
ରାମାୟଣ – ଅଯୋଧ୍ୟାକାଣ୍ଡ (୨୦୦୦)
Ramayana – Ajodhyakanda (2000)
Download
ରାମାୟଣ – ବାଳକାଣ୍ଡ (୧୯୯୩)
Ramayana – Balakanda (1993)
Download
ରେଖା ଓ ରଙ୍ଗ (୨୦୧୫)
Rekha O Ranga (2015)
Download
ସାହିତ୍ୟ ଓ ସାହିତ୍ୟିକ (୧୯୬୮)
Sahitya O Sahityika (1968)
Download
ସ୍ରଷ୍ଟା ଓ  ସୃଷ୍ଟି (୧୯୭୨)
Srasta O Srusti (1972)
Download
ଶ୍ରୀ ସୁଦର୍ଶନ ଯଜ୍ଞ ପଦ୍ଧତି (୨୦୧୨)
Sri Sudarsana Jagya Padhati (2012)
Download
ଶ୍ରୀବିଷ୍ଣୁ ପୁରାଣ (୨୦୧୩)
Sribisnu Purana (2013)
Download
ଶ୍ରୀରାମ ରସାୟନ (୨୦୧୫)
Srirama Rasayana (2015)
Download
ଉପେନ୍ଦ୍ର ଭଞ୍ଜ – ତିନୋଟି ଅଭିଭାଷଣ (୧୯୭୨)
Upendra Bhanja – Tinoti Abhibhasan (୧୯୭୨)
Download
ଉତ୍କଳ ମଧୁପ ଓ ପ୍ରଦୀପ (୨୦୦୭)
Utkal Madhupa O Pradeepa (2007)
Download
ସୁଦର୍ଶନ ଆଚାର୍ଯ୍ୟଙ୍କ ବିଷୟରେ… – On Sudarshan Acharya…
ଆଚାର୍ଯ୍ୟ (୧୯୯୯)
Acharya (1999)
Download
ସହୃଦୟ ସଂହିତା (୨୦୧୭)
Sahrudaya Samhita (2017)
Download
ସୁଦର୍ଶନ ଆଚାର୍ଯ୍ୟ (୨୦୨୨)
Sudarshan Acharya (2022)
Download
ସୁଦର୍ଶନ ଜୀବନ ଆଲେଖ୍ୟ (୨୦୨୨)
Sudarshan Jibana Alekhya (2022)
Download