Nababharat
Publication of Nababharat started in 1934 under the editorship of Nilakantha Das. In addition to publishing literary writings, the magazine aimed to deal with current affairs with analytical views. Thus articles on ecomonics, social science, education, history and politics were also published. Nilakantha himself wrote many insightful articles on the affairs of Odisha, India and the world. The magazine had a large writers' base totalling nearly 300. Among them were Nilakantha Das, Nabakishore Das, Rajkishore Patnaik, Kalindi Charan Panigrahi, Basant Kumar Behura etc.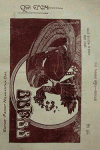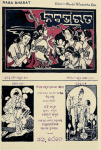 Nababharat Index
The table below lists the issues of Nababharat in digital form and also provides links for downloading these. While the file size has been kept under 25mb for convenience of downloading, it may still take some time depending on the internet connection. Sample pages have been provided for previewing the contets/quality before downloading the larger files. These will open in new browser tabs when click on. Clicking on the volume files will initiate download process.
Indexes covering almost all issues have been presented in which articles have been arranged both chronologically and authorwise. This will help in searching for particular articles. Please note that there could be some gaps as a few issues have not been found.