Satya Samachar
Weekly newspaper Satya Samachar started publication in 1930 with Brajasundar Das and Gopal Chandra Praharaj as its first editors.
Thoughtful analysis of news and events and the editors' considered views made this newspaper a special one. It covered news of the region, nation and the world touching upon language, literature, culture, politics, economics and social affairs. The style of presenting news was in form of creative narration.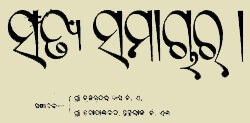 Satya Samachara Index
The table below gives links for downloading the available issues of the newspaper. Click on the links to download the files. Large files have been devided into parts of 25mb or smaller to facilitate downloading. Still it may take some time to download depending on the quality of internet connection.
Sample pages have been provided below to give an idea about the content and the quality of the digital version before downloading the larger files. These can be viewed in a new browser tab by clicking on the links. –